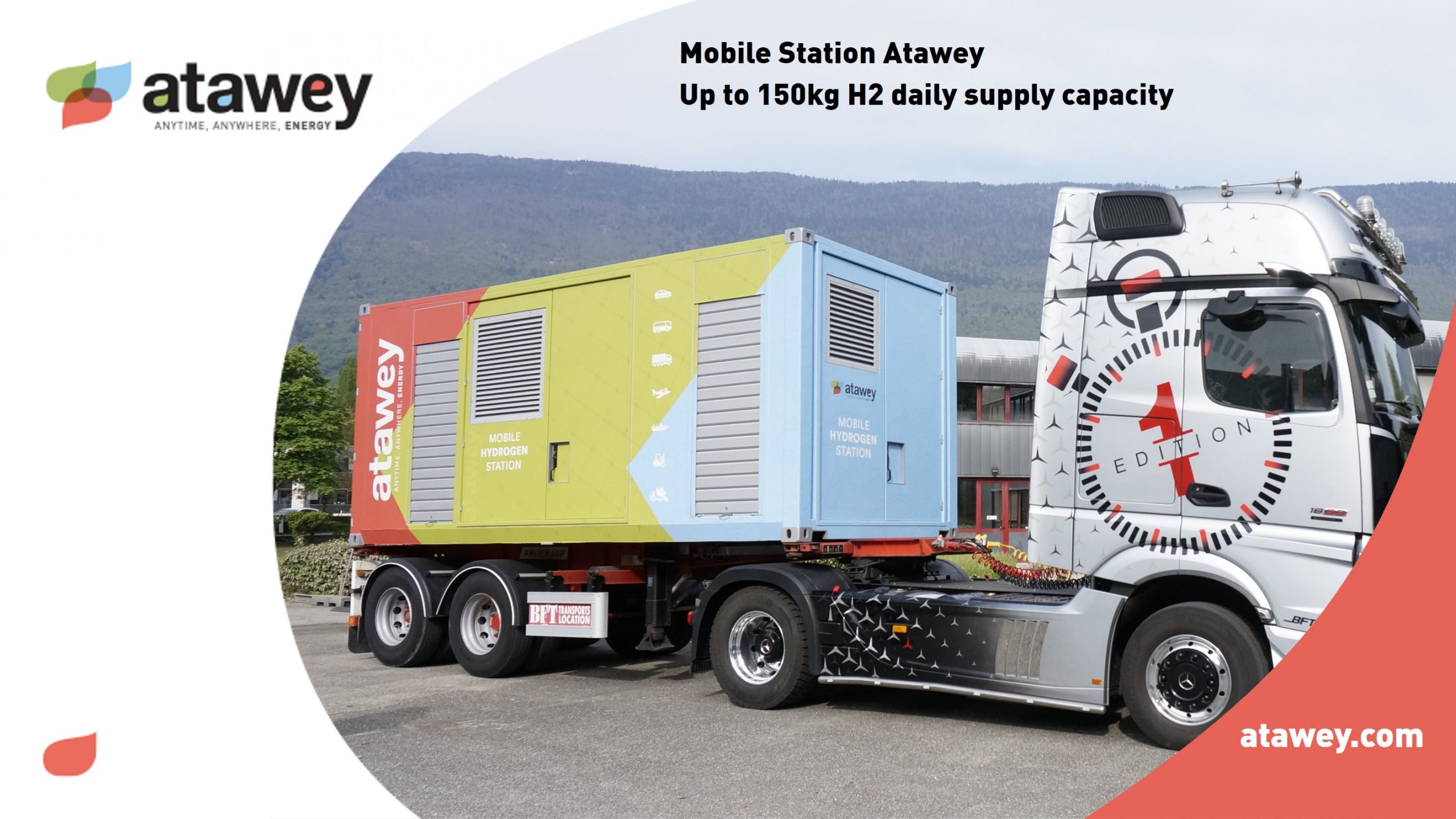 Atawey Mobile station in details
While the entire hydrogen sector is developing in France, Atawey, a major player in hydrogen charging stations with a 40% market share, announces the launch of its first mobile hydrogen charging station. Developed and produced in the Atawey workshop, the Atawey mobile station will help accelerate the deployment of carbon-free mobility in Europe.
The set up takes only half a day thanks to automatic tests and its resistance to transport. Compatible with all available hydrogen logistics solutions, this station will make it possible to respond to many market segments; construction market, transition station, fixed station back up during maintenance, event or even as a demonstrator in test areas.The first station is available today and can be mobilized on request.
The first mobile station with an internal compression unit
Announced in September 2021, Atawey's first mobile station took only eight months to leave the production workshops of the company that specializes in green hydrogen charging stations in France. Atawey's 15 R&D engineers and 10 production technicians managed to meet the production deadlines for this unprecedented technological innovation. Designed as an intuitive tool with a touch screen, the Atawey mobile station incorporates an internal compression unit, which facilitates the distribution of large quantities of hydrogen.
With its distribution capacity of up to 150 kilos of hydrogen per day and a hydrogen source pressure of 200 to 500 bars, the station can recharge light vehicles but also buses, trucks, forklifts, dumpsters, utilities, boats, snow groomers etc.
A station that can be mobilized in less than half a day to respond to many markets.
Ready to refuel in less than half a day (the fastest set up on the market), the Atawey mobile hydrogen station has been designed to be installed quickly and be used in full autonomy by the operator:
– The station is easily transported on roadways by a trailer;
– Its resistance to shocks has been specifically studied to respond to the problems of transport;
– "Automatic" procedure tests allow the operator to configure the station in a very short time and in complete autonomy;
– Intuitive control screens simplify the day-to-day management of the station.
Usable for many applications, the Atawey mobile station makes it possible to deliver hydrogen anytime, anywhere.
In a booming sector in which there are still many project holders awaiting a fixed station, the Atawey mobile station can be used as a bridging station while waiting for their permanent station or even as a back up for a fixed station when it is under maintenance. But the mobile station can also be used for more temporary needs: construction sites integrating a need for hydrogen, events, seasonal uses such as yachting or in ski areas, development and testing of vehicles for manufacturers, demonstrations of hydrogen vehicles in a territory etc.
A mobile station has already been produced by the company and can be rented on request.
To allow the various markets to discover this new mobile station, it will be presented at numerous hydrogen fairs and events in France, including Hydrogen Days in the Territories, organized by France Hydrogène in Rouen from July 5 to 7, 2022. Many French and European players have already shown their interest in the Atawey mobile station and it will be in operation this summer.
Technological innovation, the company's DNA
Since the creation of the company in 2012 by its two co-founders, Jean-Michel Amaré and Pierre-Jean Bonnefond, technological innovation has been integrated into the heart of all industrial developments. "The mobile station that we are bringing to the market today is a new step in our technological developments. Our R&D team is working hard to be able to offer a 700 bar version of the mobile station from 2023. We are also finalizing a large capacity Scalable charging station. Our offer is expanding to offer long-lasting solutions adapted to the needs over time of our various customers and project holders," says Jean-Michel Amaré, CEO of Atawey.