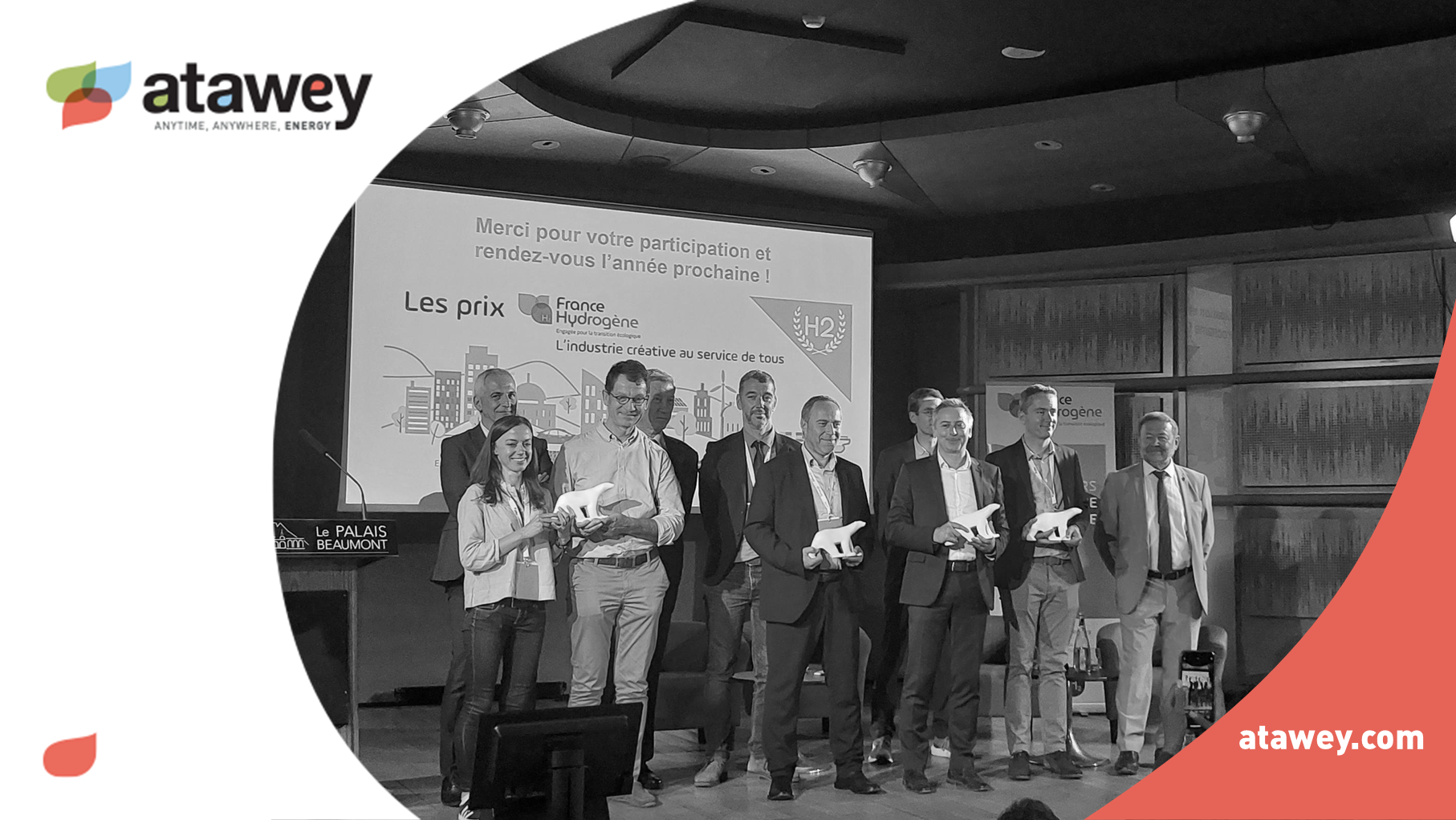 Atawey, the French leader in hydrogen refueling stations, is racking up awards and is rolling out its high-capacity stations
The Savoie-based company, which manufactures, designs and distributes hydrogen refueling stations, is experiencing a wonderful alignment of the planets!
France's leading manufacturer of hydrogen refueling stations (with more than 40% of the total installed base1) is delighted to announce that it has been selected as the winner of the first batch of the French Tech 2030 programme, a new national programme run by the General Secretariat for Investment, with the support of Mission French Tech and the expertise of Bpifrance.
This is a sign of recognition for Atawey, which now offers one of the widest ranges of stations on the European market, including high-capacity upgradable stations (up to 1.3 t/d) designed to meet the needs of the growth in intensive mobility.
Selected from among 840 applications, Atawey joins 125 other emerging players in French innovation in a programme combining financial and extra-financial support. Atawey's major objective is to help emerging French technology leaders to emerge in all the France 2030 vertical areas, so that they can develop and shine on the international stage.
At the same time, Atawey has won two awards: from the industry and at local level
Atawey is also one of the winners of the first France Hydrogène 2023 Awards, which recognise players in the hydrogen industry for their dynamism and value creation.
Atawey received the Innovation Award for its mobile hydrogen refueling station.
Launched in 2022 and designed by the company's R&D teams, this station represents a major industrial innovation. The station moves to the customer, whatever the need.
To speed up commissioning (less than 4 hours) and avoid the station being unavailable, it incorporates two innovative programmes, also designed in-house : ata'Start and ata'Check.
Atawey has also been selected to take part in the 2023 edition of the "Climate Solutions Accelerator" programme run by the Cannes Lérins conurbation. The aim of this local event is to bring together developers of practical solutions with elected representatives from the area, to help prevent the effects of climate change.
These various awards and programs are recognition of the efforts made by the company, which for over ten years has been working to accelerate hydrogen mobility in France and internationally. The company's DNA, based on innovation and industrial expertise, means it can meet the expectations of different markets and adapt to the changing needs of hydrogen mobility.
HYmpulsion renews its confidence in Atawey
As good news never comes alone, Atawey is pleased to announce a new order for three high-capacity stations from HYmpulsion, the company responsible for the operational and commercial implementation of the Zero Emission Valley project. These three hydrogen refueling stations, each with a compression capacity of up to 1.3 tonnes of hydrogen per day, will enable the Zero Emission Valley project to continue its development.
This major project, backed by the Auvergne-Rhône-Alpes region, plans to deploy more than 400 hydrogen-powered light vehicles (commercial and passenger vehicles) and more than 115 buses, lorries and coaches by 2024, making it necessary to set up appropriate hydrogen refuelling stations. With an initial distribution capacity of 400 kilograms of hydrogen per day, the stations ordered will eventually be upgradable to 1.3 tonnes per day, enabling Atawey to meet the requirements and needs of the Zero Emission Valley project.
This new order for three stations is the logical continuation of a long-standing partnership, since the first two stations in the Zero Emission Valley project were manufactured and installed by Atawey and are already being operated by HYmpulsion: the first in Chambéry and the second in Moûtiers.
With station availability rates of over 95% and daily monitoring, Atawey is positioning itself as a key player in hydrogen distribution. Like the stations in Chambéry and Moûtiers, these three new stations will incorporate the international MC Formula filling protocol. This extremely complex refuelling protocol saves energy and increases station availability. It also enhances the user experience.
Atawey is the first French manufacturer to incorporate this technological innovation.
The three future stations will be installed by 2024 in Annecy, Valence and Salaise-sur-Sanne, south of Lyon. These strategic locations will make it possible to create hydrogen corridors – in line with European programs to deploy massive hydrogen infrastructures along major traffic routes – between Lyon and Valence and Valence and Annecy. The aim of creating this network is to support the development of a low-carbon mobility sector in the Auvergne-Rhône-Alpes region, while ensuring that heavy goods vehicles can be refuelled on European cross-border routes.