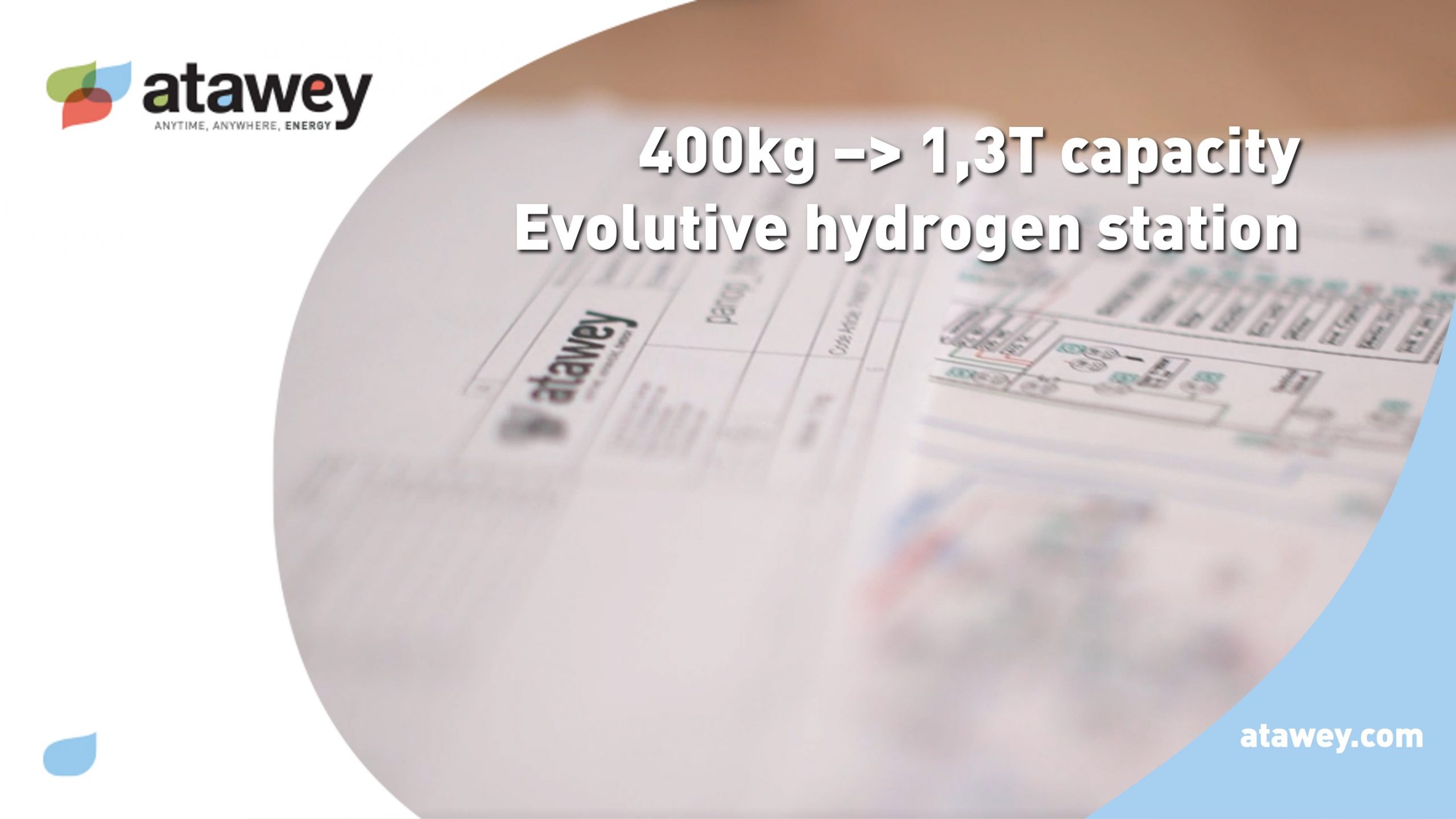 Atawey develops a large capacity Evolutive hydrogen station
After announcing the launch on May 2 of its first mobile hydrogen charging station, Atawey is taking a step further for low-carbon mobility. The Savoyard company, announces the start of production of a new model of its range of Evolutive hydrogen refuelling station. This large capacity Evolutive station will have a distribution capacity of 400 kg can be upgraded to 1.3T of hydrogen per day, to go along with the growth of uses over the lifespan of the projects.
This station will have the specificity of having one or more distribution terminals to simultaneously recharge several vehicles. At the same time, the company will deploy sales and technical teams in France and Europe to support hydrogen project leaders as closely as possible to the territories, from design to construction and operation.
The large-capacity Scalable station is available for pre-order today for first deliveries in early 2023.
"We offer products that contribute to the mass deployment of hydrogen infrastructure in France to respond in particular to the arrival of heavy vehicles and the acceleration of fleets of light commercial vehicles." commented Jean-Michel Amaré, CEO of Atawey.
A high-capacity station that allows you to control financial investments by adapting to the evolution of projects while optimizing operating costs
While most European regions have now detailed their hydrogen strategy and project announcements are multiplying throughout the territory, Atawey, a major player in hydrogen recharging stations with 24 stations installed in France, wanted to support project holders at all phases of their deployment. Atawey's R&D teams have worked on an Evolutive refuelling station that completes the range of Atawey stations already available on the market. This new station makes it possible to deliver a large capacity of hydrogen and adapts to the evolution of projects over time (more vehicles and/or new types of vehicles for example) while maintaining the same footprint. It makes it possible to "phase" the project and thus reduce its financial impact.
With its distribution capacity of 400kg to 1.3T of hydrogen per day at 350 and 700 bars, from a hydrogen source pressure of 30 to 500 bars, the station makes it possible to recharge light vehicles, heavy vehicles (buses , coaches and trucks), forklifts, trains, boats, special machinery (Dumpsters, snow groomers, etc.) simultaneously thanks to several integrated charging stations. As it takes five minutes to charge a car, and 15 minutes for a heavy vehicle, the "multi-terminal" function will support the deployment of mobility. This station, entirely designed and manufactured by the Atawey teams, will be able to respond to numerous market segments; deployment of fleets of all types of vehicles in a territory, logistics & supply chain market, bus depots and other vehicles, ski resorts, etc.
With one of the smallest footprints and the best energy performance on the market, while incorporating a very high level of reliability, this station has many innovative features:
– The key functions of the station fit into a 20-foot container. Only the cooling unit, stock and distribution terminal(s) are external;
– Optimized energy performance: management of hydrogen compression and cooling, adaptation to different inlet pressures, control of the electrolyser;
– Some key components are doubled to ensure increased reliability; guaranteeing optimal operation even in degraded mode;
– Simultaneous charging of all types of heavy and light vehicles at 350 and 700 bars with full international compatibility with the CEP filling protocol
Tailor-made support
Throughout the lifespan of a project, the Atawey team will be present to provide tailor-made support:
– A dedicated project manager, from the customer order to the installation of the station: detailed studies, layout and civil engineering, regulatory procedures, etc. ;
– Operations support with tailor-made training or support;
– Preventive maintenance adapted to the use of each station;
– Support service for the daily monitoring and continuous improvement of the stations: Remote supervision and corrective maintenance;
– Optimization of algorithms and updating of programs throughout the life of the station.
"We are going to support the marketing of this new station with the deployment of sales and technical teams on French territory in the coming months, then from the end of the year, in Europe." says Jean-Michel Amaré, CEO of Atawey.