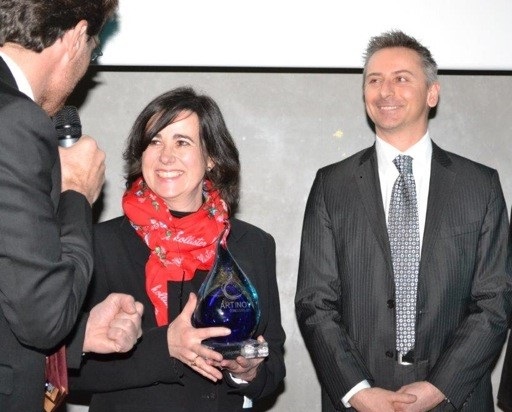 2013 Region Artinov trophy
ATAWEY wins the most innovative company regional contest in the production process category, an award highlighting its unique and innovative technological process.
The 14th edition of the Regional Artinov challenge recognized the particularly innovative characteristic of ATAWEY's home-conceived and manufactured energy autonomy solutions ; a concept respectful of both mankind and the environment.
Jean-Michel Amaré and Pierre-Jean Bonnefond were awarded a trophy realized by an art-glass-maker* echoing the renewable energies used in their device. Thanks to its colour and uncluttered shape, the blue-coloured glass sculpture handed-over to the Laureates embodied the four elements : air, fire, water and earth.
ATAWEY's fuel-free energy generator uses these flowing energies (solar, water, wind), and transforms the excess renewable energy into solid and storable hydrogen.
ATAWEY's energy autonomy solutions are the product of a lot work in terms of Research and Development and Testing in the energy and hydrogen technologies. During Artinov's ceremony, Jean-Michel Amaré confirmed ATAWEY's will to keep the company growing and developing thanks to a highly supported R&D plan.
* Guillaume Martin, OxyVerre.