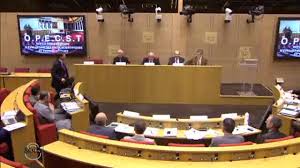 Public hearing in the Senate
Invited to the French Senate by OPECST rapporteurs, Jean-Michel Amaré gave a presentation to the audience of senators, deputies and members of the hydrogen-energy sector on the innovative energy autonomy solutions developed by ATAWEY .
The two OPECST* rapporteurs, Laurent Kalinowski and Jean-Marc Pastor (Moselle Deputy and Tarn Senator respectively), selected ATAWEY for a public hearing dedicated to the energy applications of hydrogen. Young developing companies rubbed shoulders with key energy players such as Air Liquide and GDF.
Jean-Michel Amaré (CEO) presented the target markets of the startup together with the outlook (in the medium term) for applications of this vector within the framework of energy transition.
You can see the public hearing on:
http://www.youtube.com/watch?v=K8a8d7G6kug
This was the occasion to recall the challenges faced by the hydrogen-energy sector, and to request increased support from the public authorities for the deployment of these systems in France; but also to state the need to remove legislative obstacles in order to develop the use of this mature hydrogen technology.
* OPECST: French parliamentary office for the assessment of scientific and technological choices