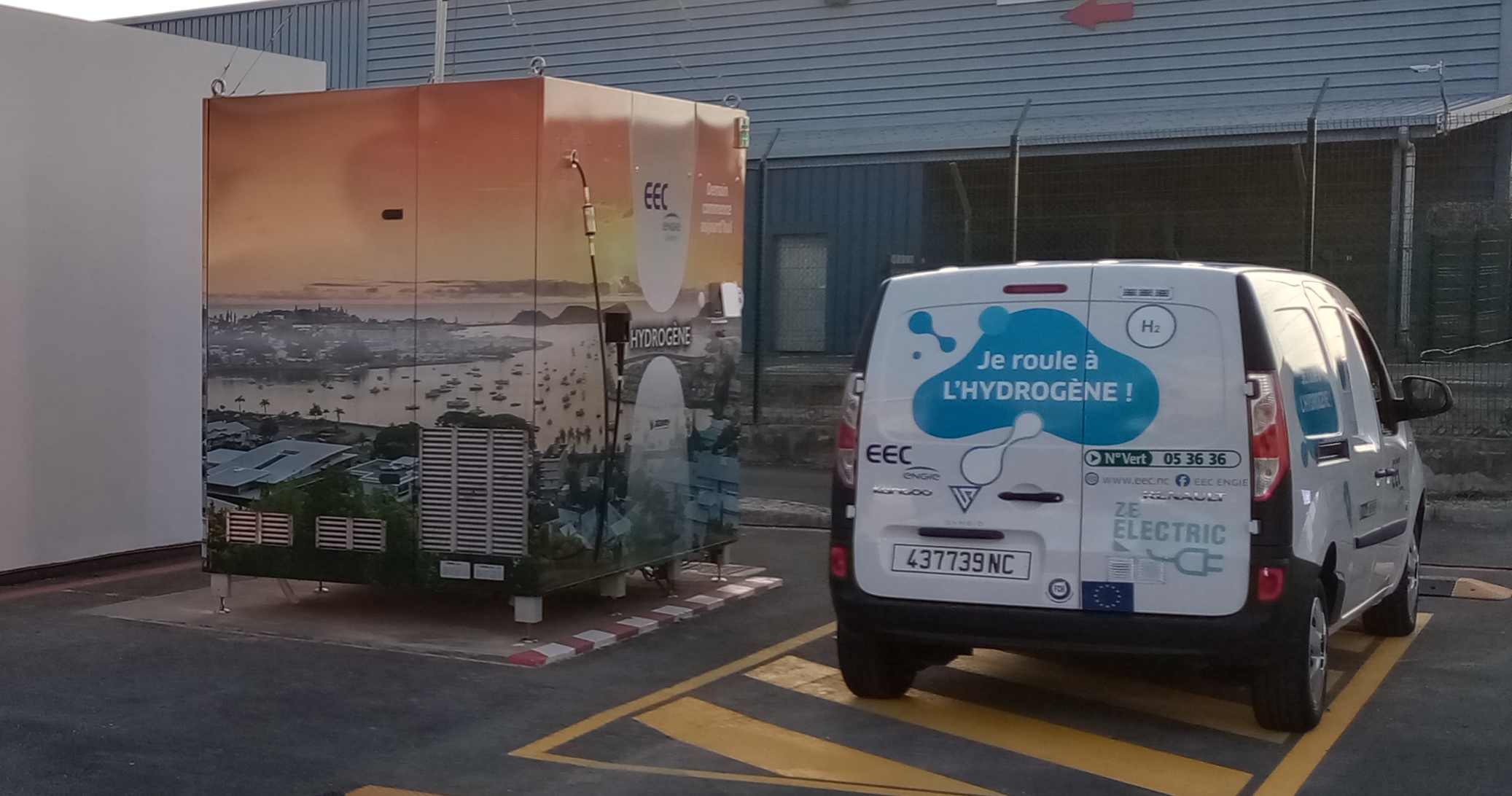 Nouvelle-Caledonie, France – Nouméa first hydrogen filling station is made by ATAWEY – December 17th, 2020
A model for green mobility in the Pacific region
Christopher GYGES, member of the government in charge of the energy sector, Gilbert TYUIENON, member of the government in charge of the transport sector, as well as two representatives of ENGIE Solutions, François LAFOREST and Philippe MEHRENBERGER participated on December 16, 2020 in the inauguration of the first hydrogen station in Nouvelle-Calédonie, designed and installed by ATAWEY.
Taking part in the deployment of hydrogen mobility in Nouvelle-Calédonie is a great source of pride for Atawey. This project responds to the island's energy transition challenges: doubling the share of renewables in the energy mix and reducing greenhouse gas emissions in the transport sector by 15%. The installation of this first station together with the purchase of two vehicles aims to demonstrate the attractiveness of hydrogen mobility: clean, silent, with great autonomy.
Because the hydrogen market is constantly changing, it is important to offer solutions that meet today's challenges while being flexible for tomorrow. This is why ATAWEY green hydrogen station range includes solutions for pilot hydrogen mobility projects as well as evolutive stations for networking regions. Being as close as possible to market needs made it possible for Atawey to be a market leader on small and medium hydrogen stations today. Atawey now meets the needs of hydrogen station with a capacity from 2kg/day up to 200kg/day, i.e. a fleet of 200 cars.
Manufacturer of hydrogen stations made in France
Atawey hydrogen charging stations are entirely designed and manufactured in France. The majority of our subcontractors are located in Auvergne-Rhône-Alpes and 75% of our purchases and value added come from this same region. In addition, all jobs (design, manufacture, installation, maintenance) related to Atawey hydrogen stations are created in France.
Details of Spring 6 350 hydrogen station
The installed Atawey station is designed to meet the need of hydrogen for a fleet of 1 to 5 vehicles. This Atawey hydrogen station produces green hydrogen on site from electricity from renewable energy and water, thanks to our patented high environmental performance water electrolysis technology embedded in our charging stations. The H2Spring-6-350 station produces 2kg of hydrogen per day and can deliver up to 6kg of hydrogen per day at 350 bar.
This hydrogen station is made up of:
– an electrolyser, which dissociates the hydrogen and oxygen atoms of water by chemical reaction using electricity
– a compressor and gas cylinders to be able to store a maximum of hydrogen
– a 350 bar supply hose for recharging fuel cell vehicles
The hydrogen car will transform hydrogen into electric current using a fuel cell. The current generated will provide energy for the electric motor.