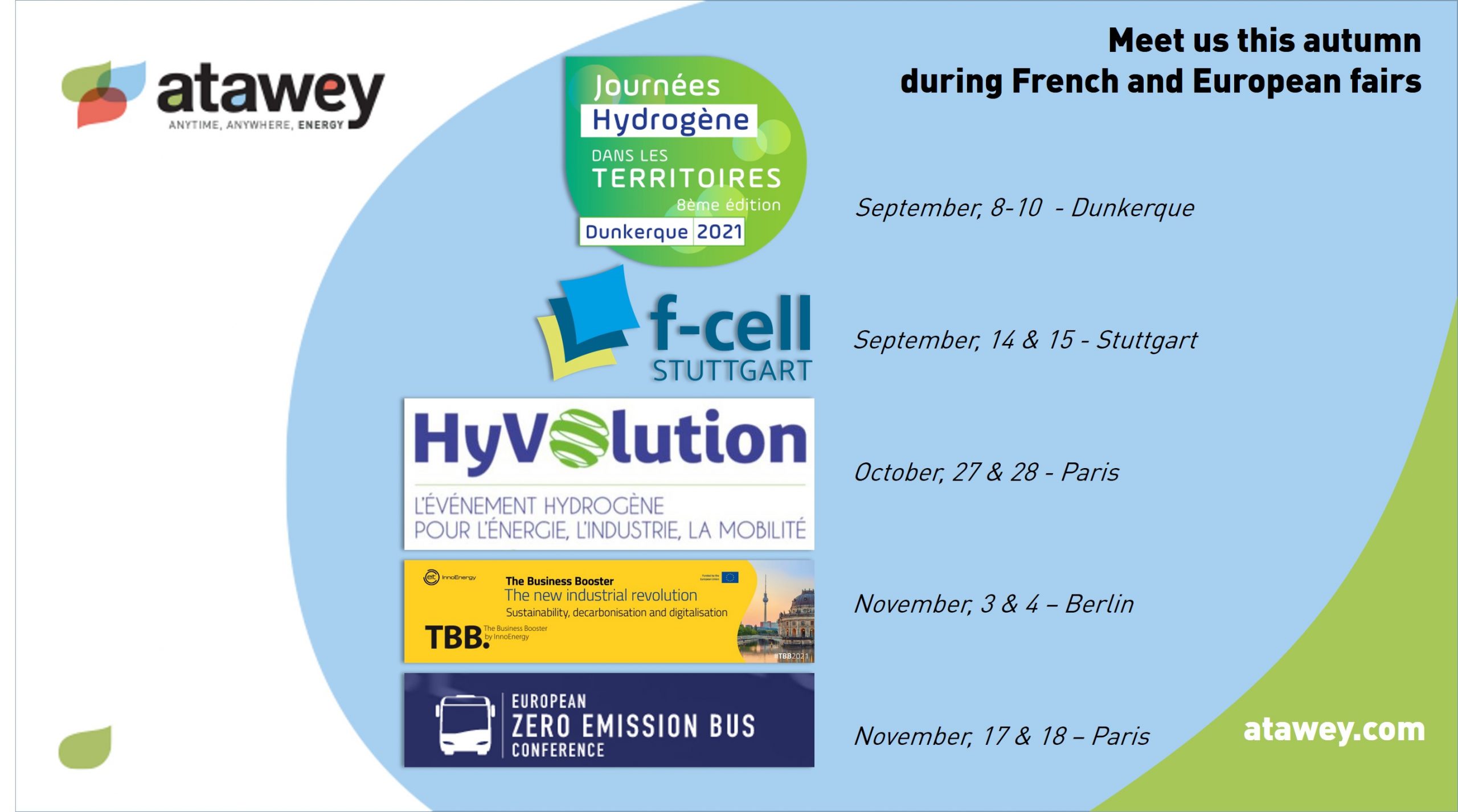 Atawey on its way to Europe
Energy transition is becoming increasingly important in the recent years. Large cities and capitals are actively thinking about their decarbonisation and preparing to step up their efforts in favor of soft mobility.
The role of local communities and companies is essential in the development of the hydrogen sector in order to synchronize as well as possible the emergence of the offer and the development of the demand.
The stakes are high and EU Member States have made hydrogen a top investment priority. Moreover, France and Germany, two pioneer countries in this innovation, have announced their intention to spend respectively 7 and 9 billion public funds to hydrogen over the next ten years. Indeed, the hydrogen market is gaining more and more weight in France and in Europe. By 2030 we expect 300,000 light vehicles, 5,000 heavy goods vehicles or buses, 250 trains and 1,000 boats that will run on hydrogen. To ensure this expansion, no less than 3,000 charging stations will be needed to supply this fleet.
For the time being, Atawey is concentrating most of its efforts on supplying the French hydrogen station network with scalable hydrogen stations and paving the way for successful decarbonization. To maintain its position as a pioneer of green hydrogen stations in France, Atawey has set itself strong ambitions. In fact, Atawey aims to deploy 150 stations over the next five years, to retain its 40% market share in France and to be positioned as a main player in Europe. To support this ambition and mass deployment, Atawey is preparing to multiply by 5 the number of its employees over the next three years, from 30 to 150 employees. A new fundraising is also planned for this year in order to finance and accelerate the development of this project. Great ambitions we are prepared to take up proudly !
In order to meet hydrogen players and communicate about our solutions, Atawey will be present this last quarter of 2021 at several exhibitions. First in Dunkirk at the Hydrogen Days in the Territories for an 8th edition from September 8th to 10th, then at f-cell in Stuttgart on September 14th & 15th, stand 33, at the Hyvolution show in Paris on October 27th & 28th, stand E26, at the TBB in Berlin on November 3rd and 4th, and finally in Paris at the Musée de la Chimie for the Zero Emission Bus conference on November 17th and 18th.