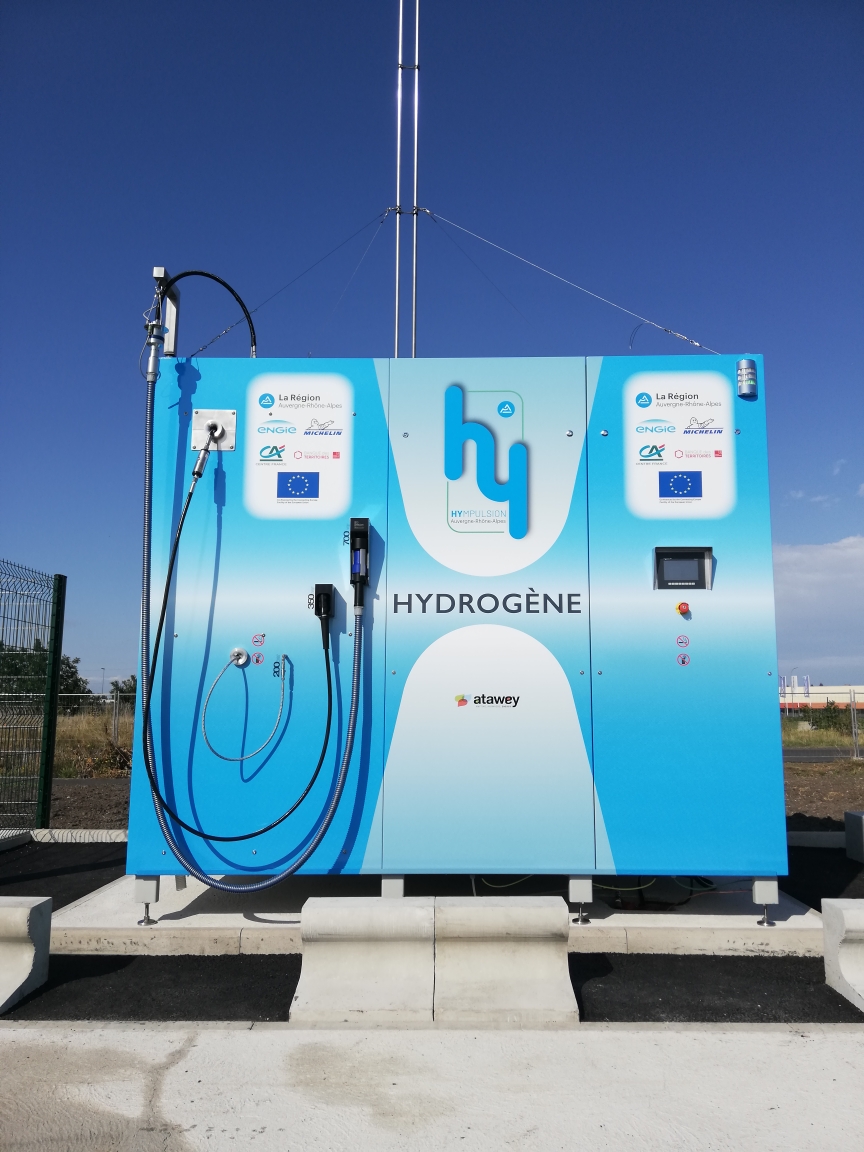 100th hydrogen tank filling for the Clermont-Ferrand station in 2020
The Atawey hydrogen station in Clermont-Ferrand has just completed its 100th filling since the start of 2020! This represents nearly 100kg of hydrogen distributed, 10,000km traveled and more than a ton of CO2 saved!
The Clermont-Ferrand station produces green hydrogen on site by electrolysis. It is operated by ENGIE Solutions and financed in collaboration with Michelin.
"Thanks to the turnkey solution HyStart, offered in partnership with ATAWEY, we are proud to contribute to the initiation of hydrogen mobility in Clermont Ferrand. This station enables Michelin to offer a green hydrogen supply solution on its site in Les Gravanches to the pioneers of sustainable mobility in Clermont Ferrand Colis Vert, Urby…. HyStart is thus preparing the deployment of the Zero Emission Valley stations project supported by HymPulsion ", declares ENGIE Solutions.
ZEV: "Zero Emission Valley" is the "territorial hydrogen hub" project of the Auvergne Rhone-Alpes region which includes the networking of the territory with hydrogen stations and assistance in financing hydrogen vehicle fleets. Atawey will provide 6 stations for this project.
Inaugurated in August 2019, the hydrogen station is used on a regular basis, in particular by the last mile green delivery company based in Clermont-Ferrand: "Les Colis Verts". Founded in 2018 by Erwan Carré, "Les Colis Verts" is the only company in the city to offer low-carbon delivery with new modes of mobility: cargo bikes and hydrogen vehicles. Thanks to their Kangoo ZE hydrogen, "Les Colis Verts" can expand its customer base to the outskirts of Clermont-Ferrand and with heavier loads. Indeed, cargo bikes only deliver packages or pallets within a restricted area with a weight limit. Erwan Carré tallks about his positive experience with hydrogen: "Driving on hydrogen helps create relationships: our local customers are very proud to use our carbon-free delivery services and ask us a lot of questions about hydrogen. We are the pioneers of a new era, happy to be part of the hydrogen adventure and are very lucky to operate in ZEV territory. "